Fran Meadows, Author The Truth Behind The Secret "Infertility"
Pregnancy Loss



Miscarriage

Miscarriage is the term a health care providers use to describe the loss of pregnancy from natural causes before the 20th week of pregnancy. Most miscarriages occur very early in pregnancy usually before 12 weeks of pregnancy. It is determined that approximately 15% of women will suffer a miscarriage. Most causes for miscarriage are unknown, in some instances there might be underlying medical conditions that have caused this. Unfortunately, there is nothing a woman can do to prevent a miscarriage.

​Stillbirth

Stillbirth is the term a health care providers use to describe the loss of a pregnancy due to natural causes after the 20th week of gestation. According to national statistics, stillbirths occur in one in 200 pregnancies in the United States every year. Half of all cases, there is no known cause for the pregnancy loss. In some rare cases women will carry their pregnancy full term and deliver a still born child. In spite of how often stillbirth occurs, little is known about the causes or outcomes related to stillbirth

Miscarriages and Stillbirth are extremely devastating events to deal with emotionally and mentally. It is suggested that you speak with your health care provider. In most cases you should seek therapy and seek out support groups in your area or online. Online support groups and professional support can help coping much easier. Something like this will get better in time but will always be with you. A loss of a child can be very difficult to deal with and some couples heal at a different pace.



Our little angel is in heaven looking down on us. Not a day goes by that we don't think about you. We will never forget you and hope that you keep flying over us to let us know you are in our hearts. It is hard to imagine life without you but we have grown to accept that you needed to be with God! Fill others with your love and happiness! We will love you always and some day meet again!

If you have experienced the loss of a child through miscarriage or still birth, please reach out to someone to talk to, whether it's online, in person or in a support group. Speaking to others, crying and feeling less lonely is one step to healing. It's hard to imagine how you will get through an experience like this. You need to acknowledge what has happened, reflect when you want to and move forward at your own pace. Everyone deals with grief in their own ways. It is hard to wonder how people have been able to move on but it is possible - believe that things will get better in time. You will never forget! Reach out and connect with others.



---
EVERLASTING TRIBUTES
April Simanoff, Life Tribute Specialist

Inspiring a healthy emotional outlet; to enhance total wellness and spiritual awakenings.
Featuring a collection of letters to Heaven and inspirational quotes
http://spiritualawakeningspoetry.blogspot.com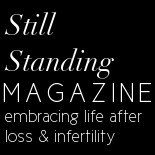 The information is solely for informational purposes. I am not a professional health care provider or therapist.
I have experienced the ups and downs of infertility, in addition to experiencing a devastating loss.
I am here to support you in your journey.
You are not alone, reach out for the support you need!